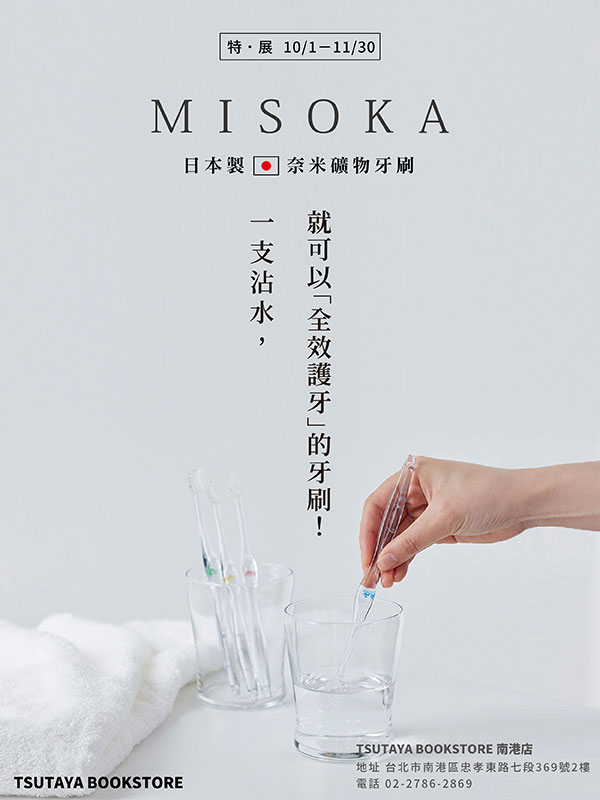 MISOKA TAIWAN will hold the northernpart of Taiwan special exhibition at Tsutaya Bookstore Nangang Store.
A toothbrush that can "clean yourteeth" as long as it is dipped in water!
Take MISOKA's exclusive research anddevelopment products as the main axis.
Through the brand spirit, productdescription, dental disease, health,
how to choose the right toothbrush andbrush your teeth correctly,
and use the full range of toothbrush display andsmall interactive branding,
everyone can understand the charm of MISOKA deeplyafter going to the Tsutaya Bookstore.
Welcome to Tsutaya House Bookstore(
 Nangang Store 
) to purchase new exclusive products first releasedin Taiwan!
Special exhibition time : 10/1-12/30
Business hours:
Monday to Thursday 11: 00 - 21 : 30
Friday to Saturday 08 : 30 - 22 : 00
Sunday 08 : 30 - 21 : 30
Special Exhibition Venue: Tsuta HouseBookstore Nangang Store 2F
(2F, No. 369, Section 7, Zhongxiao EastRoad, Nangang District, Taipei City)
------------------------------------------------------------------------------------------------------------------------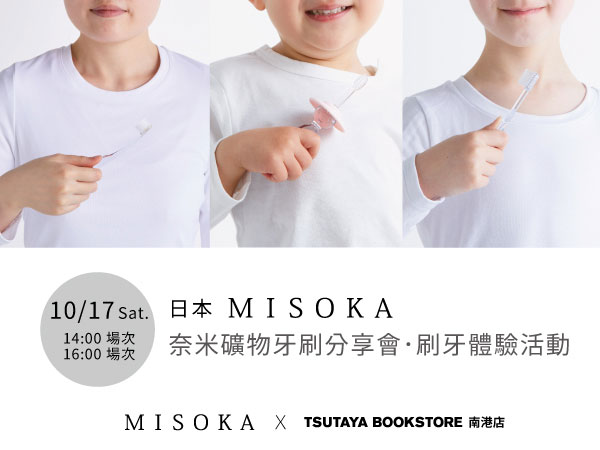 This is the first sharing session &brushing experience held by MISOKA in Taipei.
We hope that through brand introduction,technical description,
and the importance of oral and dental health to people,
and the teaching and experience of brushingteeth correctly.
After letting participants share theexperience,
 we will bring the right knowledge into our family life and makelife healthier and happier!
Welcometo bring your family to experience the fun of brushing your teeth!
MISOKA Japan Nano Mineral Toothbrush Sharing Session. Brushingexperience activities.
Event Date : 10/17 pm
Venue : Tsutaya House Bookstore Nangang Store2F
Registration method : online registration(limited to 15 people per session)
Registration fee :  TWD 100 /person
*Those who complete the online registration can try out the MISOKANano Mineral Toothbrush ( market price : TWD 390 per one ) on site, and get anexclusive gift from MISOKA!
(No refunds and gift requests will beaccepted for those who have not yet arrived at the registration session)