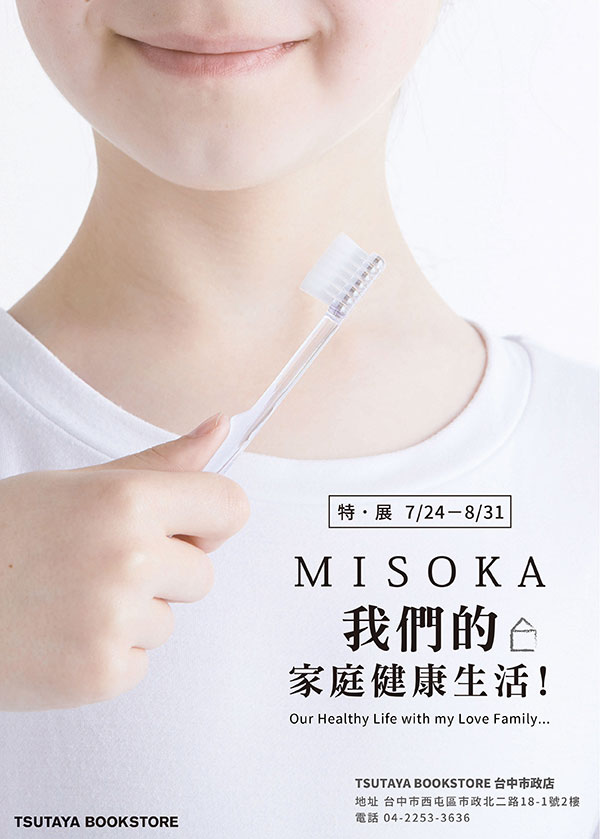 MISOKATAIWAN will hold the first Taiwan special exhibition at Tsutaya BookstoreTaichung Municipal Store.
Our Healthy Life with my Love Family
A sales display that focuses on healththat MISOKA values is different from the previous toothbrush items.
Through the brand spirit, product description, dental disease, health,
 how to choose the right toothbrush andbrush your teeth correctly,
and use the full range of toothbrush display andsmall interactive branding,
everyone can understand the charm of MISOKA deeplyafter going to the Tsutaya Bookstore.
Welcome to Tsutaya House Bookstore( Taichung Municipal Store ) to purchase new exclusive products first releasedin Taiwan!
Special exhibition time: 7/24-8/3111:00-22:00 (Exhibition extended to 9/30)
Special Exhibition Venue: TsutayaHouse Bookstore Taichung Municipal Office 2F
(2nd Floor, No. 18-1, Shishi North 2ndRoad, Xitun District, Taichung City)
------------------------------------------------------------------------------------------------------------------------
This isthe first sharing session & brushing experience event held by MISOKA inTaiwan.
We hopethat through brand introduction, technical description,
and the importance oforal and dental health to people,
and theteaching and experience of brushing your teeth correctly.
Afterparticipating in the sharing experience,
we will bring the correct knowledgeinto our family life and make life healthier and happier!
Welcometo bring your family to experience the fun of brushing your teeth!
MISOKA Japan Nano Mineral Toothbrush Sharing Session. Brushingexperience activities.
Activitytime : 7/25 14:00-15:30
Venue : Tsutaya HouseBookstore Taichung Municipal Office 3F
Registrationmethod : Free online registration (limited to 25 people)
(Thosewho complete the online registration before 7/23 and sign in on-site can getMISOKA exclusive small items)
Brilliantactivity highlights